The Pack Society Shopper 164CPR772 Off White Petals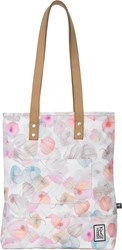 The Pack Society Shopper 164CPR772 Off White Petals
Productnummer: 164CPR772 Off White Petals
-60%
€
34
,
95
Shopper uit de collectie van The Pack Society.
Kenmerken:
- handvatten van kunstleer
- insteekvak op de voorzijde
- hoofdvak
- groot insteekvak binnenin
- details van kunstleer
Afmetingen: 38 x 34 x 12 cm
Inhoud: 12 liter
Gewicht: 290 gram
THE PACK SOCIETY
WE ARE THE PACK SOCIETY. A GROUP OF PEOPLE DEDICATED TO LIVING FREE AND LOOKING GOOD DOING IT. WE GO TO WHERE LIFE LEADS US, AND ONLY BRING WHAT WE NEED. YOUNG, WILD AND FREE. VEROCIOUS ANIMALS ON THE PROWL FOR NEW ADVENTURES AND UNFORGETTABLE MOMENTS.
SUNRISE, SUNDOWN, DUSK, DAWN. THOSE ARE JUST WORDS, WE RISE TO OUR OWN OCCASION. THE SUN IS JUST LUCKY TO BE THERE. WE HOWL AT THE MOON TO SHOW HIM WHO'S BOSS. WE SET THE NIGHT ON FIRE AND BURN, BURN, BURN TILL THE BREAK OF DAWN. WE ARE FOREVER YOUNG.
WE DON'T HAVE A CLUBHOUSE. WE ROAM THE WORLD FREELY. WITH FRIENDS AND KINDERED SPIRITS. THEY ARE OUR PACK. THE CITY IS OUR PLAYGROUND, NATURE OUR TERRITORY. WE DON'T NEED A COMPASS. WE GO WHEREVER LIFE TAKES US. IF THERE IS NO PATH, WE CREATE IT.
UNTAMEABLE, UNCONTAINABLE, UNBREAKABLE. BE WILD, LIVE FREE.
iets voor jou?